Prodoc – from SEK 150 million to SEK 300 million – and their view of the future
The price tag may be a deciding factor when selling your company but when you're looking for a long-term partner, experience, understanding of the industry and shared objectives should be considered too. Prodoc found all of these in the South African Nashua.
Swedish Prodoc delivers equipment and services for information and document management, video conferences and meeting techniques. The company is the general agent for Nashuatec, a Ricoh brand, and also for Expert Partner and LifeSize Communications, which is a part of Logitech Europe. But in the mature Swedish market, selling hardware is not enough, it is just a part of the required service offering. This is why Prodoc has three legs to stand upon.
Distribution to retailers
Distribution directly to end customers
Full-service management of video and printing hardware to many Swedish companies.
"It implies that we create adaptable solutions and takes responsibility for making sure that the document management works perfectly", says Kenneth Bengtsson who, together with Pär Arvidsson, is one of Prodoc's Swedish owners.
"By being 120% dedicated, they managed to put down our whole business on paper."
The seed for Prodoc was planted in 1976, but it was only when Kenneth Bengtsson and Pär Arvidsson acquired the company in 2010 that things got really exciting. They were previously the CEO and COO of Prodoc.
"I had been working at Prodoc since 1996 and had been the CEO since 2005. Consequently, we were confident in what the company could become and convinced that we could grow even more", says Kenneth Bengtsson.
Creating profitability and growth
Traditionally, Prodoc used to work more with margins than with growth. Pär and Kenneth believed there was potential to do both.
"We appointed sales resources, we visited new customers, found more and better retailers and developed collaborations which allowed us to offer complete solutions for document management."
In only three years the turnover grew from SEK 150 million to SEK 330 million. But instead of rushing headlong into the future, the partners sat down and talked. What was needed to grow even more? How could it be done in the right way?
"In three years we grew very quickly. Also, we had bought the company with borrowed money, so we were faced with a choice. Either consolidation or bring in external funding. We chose growth and brought in a partner who could contribute with experience and competence."
"We definitely made the right choice"
Pär and Kenneth contacted various financial advisers and chose Valentum in the end.
"They were knowledgeable about our industry, which is very important, they were also very eager. Choosing the right company for such an important task is always somewhat of a gamble, but it turned out we definitely made the right choice", says Kenneth Bengtsson.
Prodoc felt that the biggest challenge was presenting the company in a comprehensible way. To be able to collect and make sense of the figures, forecasts and processes. And Valentum did a terrific job.
"Being 120% dedicated, they managed to put down our whole business on paper and we are very happy with the work they did. For three years we hadn't stopped, so producing a comprehensible presentation of Prodoc's concept wasn't easy. Even Valentum found it complicated but they left no stone unturned."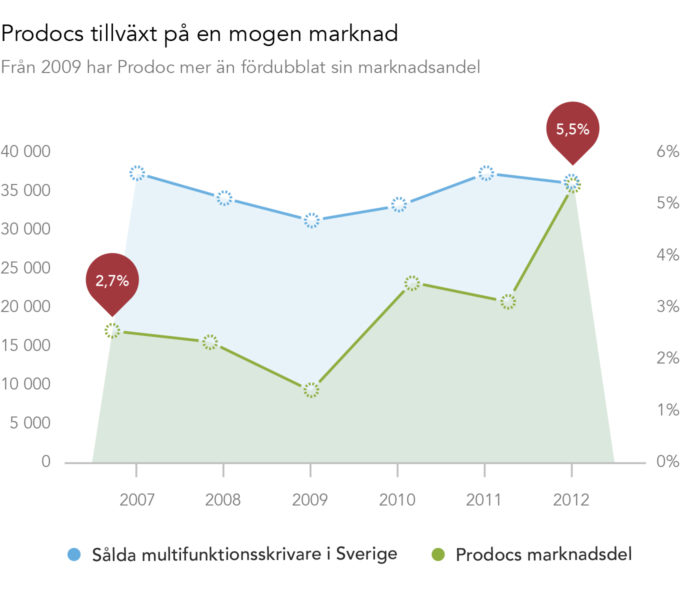 Here's what made Prodoc an attractive investment
The work Valentum put in was also commended by Nashua, the South African company that became Prodoc's owner. Nashua is the general agent for Nashuatec's products in South Africa and a part of the Reunert group, a large South African conglomerate.
"Even though our businesses have many common denominators, it was important to present Prodoc in the right way. Valentum presented Prodoc in a way that was easy for potential buyers to understand. It really contributed in making Prodoc attractive to buyers", says Kenneth Bengtsson.
In competition with several buyers, Nashua saw potential in Prodoc and acquired 60%. Together, they see a bright future ahead.
"South Africa is a mature market, but they haven't come as far as Sweden. We can show them what the future looks like. They can contribute with professionalism and experience of being a listed company. This is the beginning of a large joint effort that will take us outside of the Swedish borders."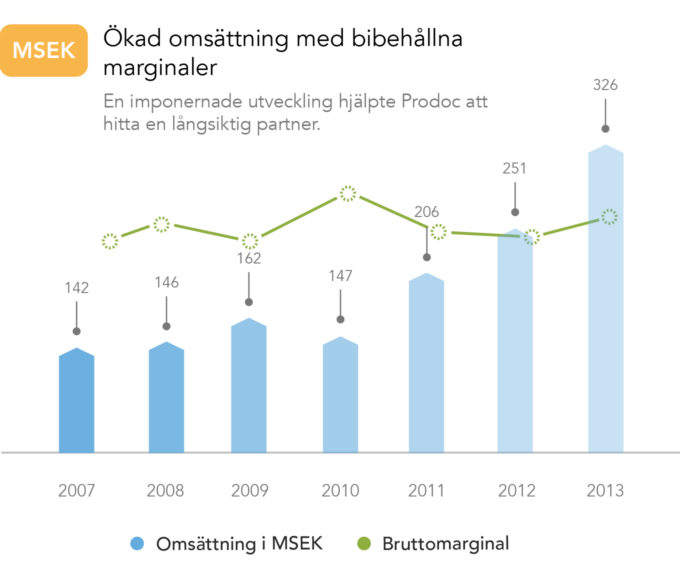 Quick facts about Prodoc
Client: Kenneth Bengtsson and Pär Arvidsson
Commission: Sell-side mandate
Industry: Print Management
Employees: 120
About the company
Prodoc is a leading company in the information and communication sector
Five offices in Sweden
Pär and Kenneth doubled their turnover in three years after acquiring it from the previous owners
To support future growth, the owners sold 60% to a South African company in the same industry
The reasons behind wanting a long term partner
They wanted to continue to grow and expand abroad
They saw the possibility to strengthen the competence and experience within the company
Kenneth and Pär wanted to be part of the future of the company – bringing in financial investors are often the first step towards selling the whole company
Valentum comments
We're impressed with Pär and Kenneth who grew Prodoc from SEK 150 million to SEK 330 million, but the company had always acted reactively and taken the opportunities when they presented themselves. The greatest challenge was to optimally present the company and create a business plan demonstrating future growth based on the company's history.