With Ratos as owner Speed Group can continue its growth journey
When the company that Jarl Ternander and Daniel Johansson worked for was put into reconstruction, the idea of setting up their own company was born. In a café in Borås, they scribbled down their idea on a napkin. Ten years later, Valentum helped them sell Speed Group, their much loved company, to Ratos for SEK 450 million. This is how it happened.
From the get-go, Jarl's and Daniel's idea was that of a broad palette of service companies:
Speed Competence, functioning as a staffing agency for workers

—for instance in

warehousing or manufacturing.
Speed Professionals, offering recruitment and staffing services for civil servants.
Speed Logistics, offering warehousing and logistics solutions to companies of all sizes.
Speed Production, manufacturing electronics, prototypes and serial production of circuit boards

—for instance for customers in the music

 industry.
Speed Education, offering courses in welding, lean manufacturing, leadership and more.
"These are all separate businesses that support each other. Our manufacturing and logistics businesses need employees, but when we are not working at full speed we can let some of them work for other companies. And all of our employees need training, so why not help other companies with that as well?"
The broadness of its business has made Speed Group less susceptible to seasonal and cyclical effects.
One structure for the whole cycle
"In a good economy, manufacturing is stable. But in a downturn it can falter. When times are difficult, our customers prefer to lease rather that hire employees—we can therefore lease out our freed-up employees to them. This is how we managed to survive the financial crisis without any layoffs, and it is what we do throughout the normal business cycle as well."
"The price tag was not the deciding factor – Valentum finding us the right buyer was more important."
Starting up a business requires resources, but Jarl and Daniel made a brave decision that would move things forward. In 2004, without a single customer, they hired 50 people in one fell swoop.
"Business was bad for our previous employer who had to lay off many of our former colleagues. We knew these were incredibly competent people so we offered them employment in our staffing and recruitment company. Most of them were going through training led by customers and we anticipated that they would still be needed where they were. So after having hired 50 people, we started talking to the companies with whom they were currently placed."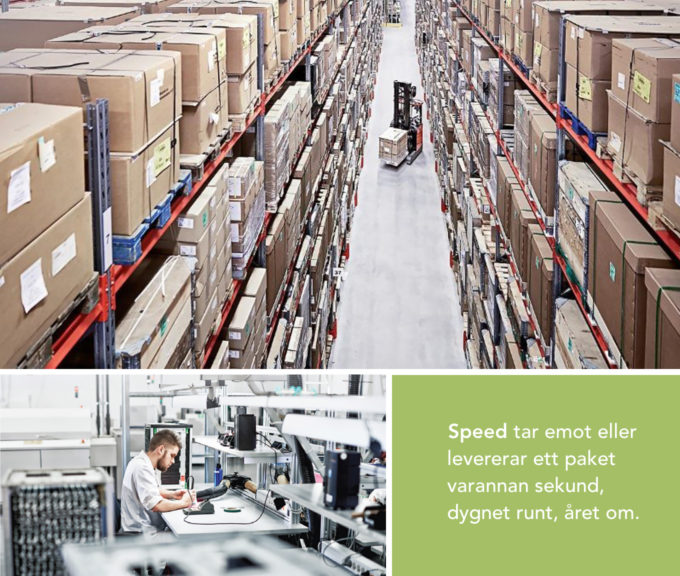 "Valentum had done their homework"
Since then it has been full steam ahead and Speed Group now employs more than 1,000 people. The quick growth, and the responsibility to the employees, made Jarl and the other owners think about bringing in a strong partner. It would make the company less vulnerable and help them take Speed Group to the next level.
"We were approached by many potential buyers, but it never felt right. When Valentum appeared everything changed. They had really done their homework in an impressive way, and they differed remarkably from the other M&A firms we had been in contact with."
Valentum valued Speed Group on par with the final purchase price, but the price tag was not the deciding factor.
"What really mattered was that Valentum found a buyer that felt right. We are staying in the company and it has to feel right for all our employees to come to work in the future too."
Not the highest bid, but the best.
The choice fell on Ratos who became a majority owner with 70% of the shares.
"Ratos provides us with a stable and solid economy, and they have a large network of contacts and the competence that we need in order to grow. They have a far reaching vision and share our view of how Speed Group can become even better in the future. We had higher bids, but not better."
Jarl and his colleagues made the decision themselves, which is something they appreciated with Valentum.
"Valentum found the candidates, then wanted us to form our own opinion. We even tried to push them into telling us what they thought, but they felt it was important for us to reach an answer without their involvement. When we had, and explained to them why we thought Ratos would be the best partner, they said 'that's exactly what we thought'."
World class growth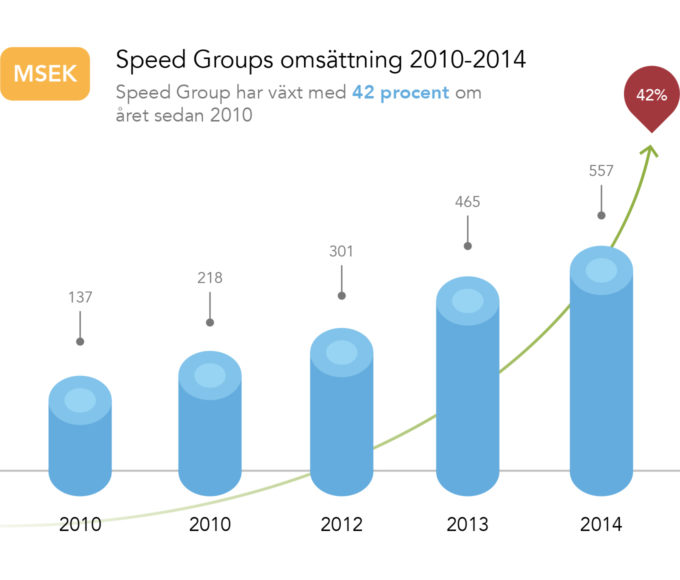 Quick facts about Speed Group
Client: Jarl Ternander, Daniel Johansson, Jesper Andersson and Catrin Wirfalk.
Mission: Sell-side mandate
Industry: Logistics and staffing
Number of employees: 900
About the company: Speed Group delivers complete solutions within staffing, recruiting, manufacturing, training, logistics and stock.