How cyclical is the market for company transactions?
It is hardly surprising that the market for company transactions is cyclical. But how cyclical is it? And are all companies affected, or only those that are cyclical by nature? Is it already too late to initiate a sales process?
The consensus amongst larger business forecasting institutes is that Sweden is in a phase of economic slowdown. Similar patterns can be observed on a global level and the latest forecast for global GDP growth by the IMF is the most pessimistic since the financial crisis.
There are, of course, many factors that have an impact on the outcome of a company transaction. Financial health and strong forecasts remain the most important factors, but an economic downturn significantly affects companies which are sensitive to the business cycle, while companies which are less susceptible to it are affected by the general slowdown in the economy.
Bearing that in mind, it is interesting to study the sensitivity of the transaction market to the general economic climate, and there turns out to be a clear connection between the two.
The market for company transactions is highly cyclical
Following are some facts: in 2009 there were 45% less transactions in the Nordic countries than in 2007 which was the latest record year. The financial crisis in the latter part of the 00s was the result of a 'credit crunch' which had widespread global consequences. There is some hope that the next recession will be less severe than the last one, but if you look at the recession which took place at the beginning of the millennium, the numbers speak for themselves—transactions were down 25%.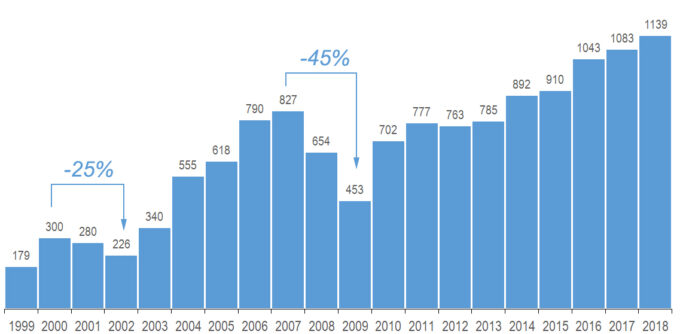 All industries are affected
Worst hit are the industries that are most sensitive to the business cycle, such as the construction sector. Non-cyclical industries also take a hit, since valuations become lower and forecasts become more pessimistic also for companies that are better prepared for a recession. Almost all companies are valued on the basis of future profits. The uncertainty regarding future developments, which is typical of a recession, lowers valuations and makes it harder for buyers and sellers to reach an agreement.

Strong but lagging correlation with the stock market
When comparing the number of company transactions to the stock market development one finds a strong correlation. It is worth noting, however, that the number of company transactions reaches its lowest point approximately one year after the stock market in a recession.
"As long as the stock market is at, or near, the all-time high, there is still time to make good deals", says Gustaf Plyhm, "but if you want to be sure of making a good deal, make sure not to wait too long".