The story of the Bellbox and Lyko merger
In only a few years, the hairdresser in Vansbro grew to become one of the largest online retailers for hair and beauty products in Sweden. Lyko, a family business, has now taken the next step forward and partnered with Bellbox, a previous competitor. Valentum guided Lyko through the merger and made sure they got the right ownership stake in the new company.
Lyko's CEO, Rickard Lyko, is the exception of the family, unlike his mother, father and sister, he is not a hairdresser. The tradition goes all the way back to the 1930's when Rikard's grandfather, Frans Lyko, switched careers from being a mechanic to hairdresser apprentice, something that probably saved his life.
"Grandad was from Lvov in Poland. During WWII he was captured by German troops and was sent to Sachsenhausen. He survived due to the fact that he could cut the hair of the guards."
After almost seven years in Sachsenhausen, Frans Lyko was liberated. He moved to Vansbro in Sweden and opened his own salon which he ran for 43 years. He passed the love of hairdressing on to his son Stefan.
"Dad opened his own salon six miles away from granddad. Then he met my mother Rita who was also a hairdresser and she joined his salon."
Went all out
Fast forward to 2014. The family operated business has half a million customers and employs 85 people. How did this happen? How did a tiny salon in Vansbro turn into a huge company?
"It all started in 2014 when dad had been to a trade show in London and brought back an Australian hair wax to sell in the salon. Someone had looked for the wax on AltaVista, found our website and asked us to mail it to them. That was our first online sale", says Rickard.
At the same time as his parents' salon started experimenting with online sales, Rickard was on his own adventure. He had left Vansbro for a career in biathlon in Boden and had commenced business studies in South Africa and Australia. But when the financial crisis struck, he decided to move home.
"The financial crisis made me realise I needed to focus on the family business. I called up my sister and parents and said 'Remortgage, withdraw all your savings and transfer the money to me'. That's when we set up the limited company."
From SEK 4 million to SEK 200 million
Thereafter, things moved forward quickly for Lyko. The family focused on the online shop and the result wasn't far behind. In 2008 the turnover was SEK 4 million, in 2014 it was more than SEK 200 million.
"It's an unbelievable development, a lot of it was down to timing. The market had just become mature enough for online sales when we started."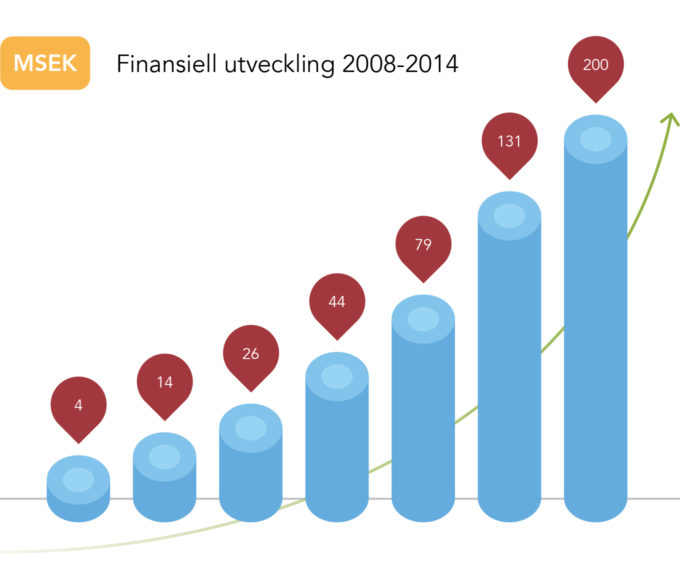 The competitors came calling
At the height of their explosive expansion, Rickard got a phone call from their competitor Bellbox. They were interested in a collaboration. The family was hesitant.
"We were doing so well anyway and we wanted to keep control over our company. At the same time, Bellbox had a stable presence in the physical market which was interesting to us, so we decided to pursue the proposal."
When a merger of the two companies was agreed upon, Rickard met with seven financial advisers. Valentum was chosen.
"I was looking for someone with experience in e-commerce since valuations differ widely from traditional commerce. Trust was also important to me, and that they were dedicated to the merger."
Valentum worked on this merger for more than six months. Since it was a merger, both parties would own shares in their joint company, but how would the shares be split? The main focus for Valentum was to strengthen the interests of Lyko in the transaction.
"Bellbox had experience of similar situations but we had never done anything like it. It felt safe to have Valentum on our side."
Majority owners
In November 2014 the merger between Lyko and Bellbox was disclosed. Lyko became majority owners in the new company which will operate as a joint organisation. Rickard Lyko is happy to have crossed the finishing line.
"Lyko's development has been exceptional but now we are well equipped to grow even faster. The merger means that our customers can reach us through more channels. There are also synergistic effects in purchasing and marketing."
The discussions of physically joining Lyko and Bellbox are now in progress. But there are no plans to leave Vansbro.
"Absolutely not. Vansbro is where we started and we function really well here."
Quick facts about Lyko
Client: Lyko
Commission: Buying and selling
Industry: E-commerce
Employees: 80
About the company
Lyko.se is one of Sweden's leading e-commerce companies in the beauty industry, with a range of 30,000 products from almost 700 well-known brands. In 2013 and 2014 Lyko was given the Gazelle price by Dagens Industri (The Swedish Financial Times).
Lyko in numbers
Lyko sells a product every ten seconds
If you were to try one new Lyko product a day, it would take 77 years to go through the whole range.
If you took all the products in Lyko's warehouse in Vansbro and gave them to the local community, each person in Vansbro would be given 137 products.
Valentum comments
Our main assignment was to make a valuation of Lyko and to examine Bellbox' own valuation. In our opinion, Bellbox hadn't valued Lyko high enough, so we conducted a thorough valuation based on the market position and growth potential of both companies and made sure that Rickard's figures were solid. The split we agreed upon was a huge improvement to the initial offer.