Stable M&A market amongst Nordic suppliers to the construction sector in 2017
The M&A market is dominated by strategic investors that are consolidating the market to enhance product offerings or to increase market shares.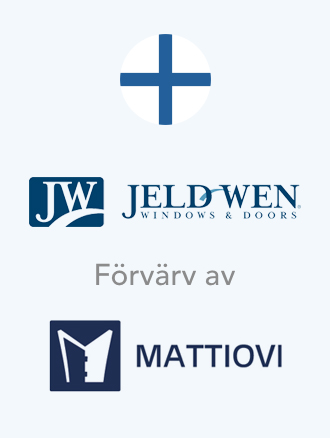 The transaction volume in 2017 continues at the same pace as in previous years. And like previous years, the Swedish market has been most active with almost 50% of the transactions carried out in the Nordics.
Industry investors are making strategic acquisitions
In total 26 transactions were carried out, mainly conducted by industry investors, both Nordic and international, performing strategic acquisitions.
For instance, Swedish Acrinova acquired VVS-Huset in Malmö who will contribute to Acrinova's strategy of becoming a nationwide property management and service company.
Semvac, a Danish manufacturer of sanitising equipment to the railway industry, was acquired by the US train manufacturing company Wabtec Corp, with an objective to widen their product offering.
The Finnish door manufacturer Matti-Ovi was acquired by the US based door supplier JELD-WEN. The acquisition mainly sought to strengthen JELD-WEN's position in the Nordic countries.
Two successful initial public offerings
Two larger companies have successfully completed stock market launches. FM Mattson became listed in April in order to raise additional capital and thereby making more acquisitions possible. Munters, who was bought by the private equity firm Nordic Capital seven years ago, was listed on Nasdaq Stockholm on the 19th of May.
The number of transactions continues in the same pace as previous years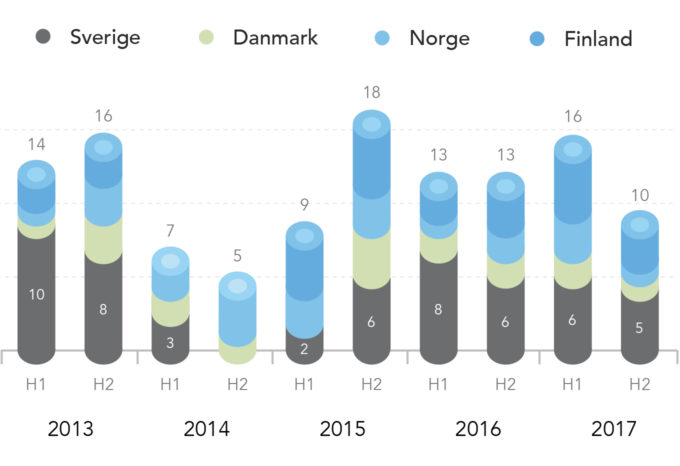 Positive development of stock market valuations for Nordic suppliers to the construction industry…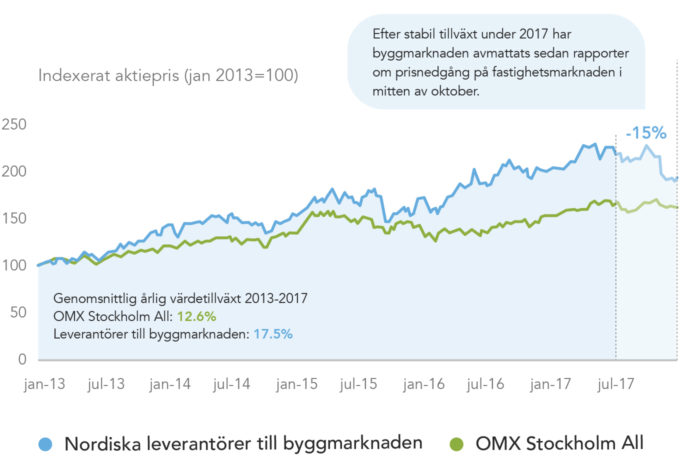 … but a relatively stable development of enterprise valuations relative to earnings before interest, taxes, depreciation and amortisation (EBITDA)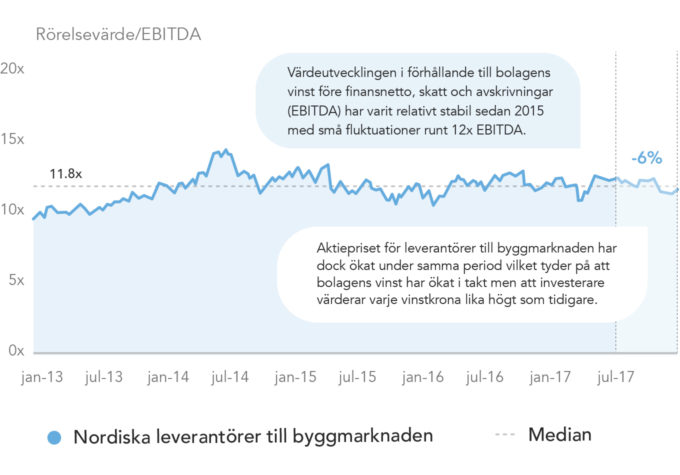 Nordic suppliers to the construction industry listed on the stock exchange