Strategic companies consolidate the welfare industry in 2017, despite the debate about welfare privatisation and earnings limitations
Strong underlying macro trends continue to drive the welfare industry but the debate about the market structure contributes to increased political risk.
Despite beneficial underlying macro drivers, the debate about private welfare has had a substantial effect on the market. Approximately 16% of the healthcare, care and educational providers in Sweden is operated privately, something that is expected to increase. The public welfare investigation along with suggestions of earnings limitations has started a national debate and has been criticised by both politicians and the business sector. In March, the government is expected to propose regulations that introduce special licences required to operate private schools and elderly care. This constitutes a significant political risk. The debate about private welfare is expected to become an important topic in the electoral campaign and clarity about the future market structure is not expected until the end of 2018.
Strategic investors are consolidating the market
Strategic buyers have been most active with the largest share of the completed transactions. In 2017 Capio made five acquisitions within the eye care and local health care sectors. The Finnish Pihlajalinna completed three acquisitions and Attendo made two. The largest acquisition in the welfare sector was when Attendo acquired Finnish company Mikeva for SEK 1.5 billion.
Several financial investors are leaving the market
The debate about private welfare and the proposal of earning limitations has increased the risk for financial investors and have, thereby, contributed to several investors divesting their businesses within the Nordic welfare industry. FSN Capital, Procuritas Capital and EQT are amongst those that have divested companies in 2017.
Slight slowdown in 2017 compared to previous years
Welfare companies are continuously highly valued even though valuation levels have decreased

Increased political risk has contributed to a slowdown in the value development on the stock exchange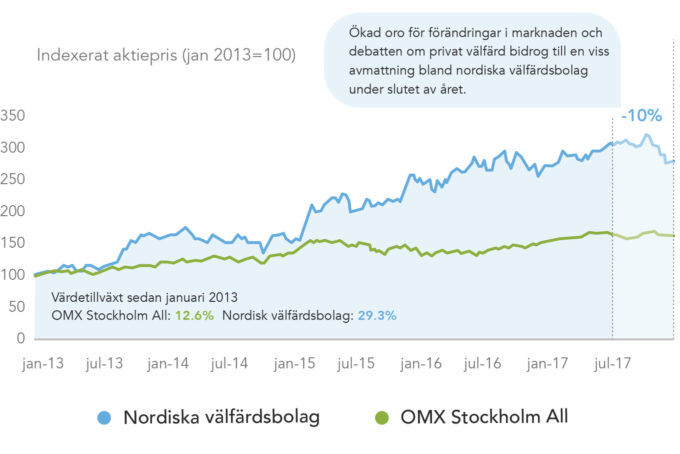 Nordic welfare companies listed on the stock exchange