Substantial interest in industrial companies from both strategic and financial buyers in 2017
There has been a stable M&A market amongst Nordic industrial companies despite a slight slowdown. Both strategic and financial buyers have made many acquisitions in the Nordic countries in 2017.
Acquired companies during 2017
The Nordic M&A market has experienced a slight slowdown during 2017 compared to previous years' high levels. Sweden dominates in terms of the number of completed acquisitions, with almost 50% of the acquired companies in the Nordics being of Swedish origin.
Large investments from private equity firms
During 2017, Sandvik divested both Sandvik Process Systems, which was acquired by the Swedish investment company FAM, and Sandvik Hyperion, which was acquired by the US based private equity firm KKR & Co. The companies had enterprise values of SEK 5 billion and SEK 4 billion respectively. Latour acquired approximately 27% of the shares in Alimak Group, making Latour the majority owner of the lift and work platforms company. At the time of the acquisition, the company was valued at SEK 8.4 billion, corresponding to 18x EBITDA.
Further transactions with high valuation multiples
Several acquisitions have been made to high valuation multiples. Amongst these were Solidium's investment in Konecranes at 20.2x EBITDA and Karo Pharma's investment in Weifa ASA at 17.8x EBITDA.
Swedish investors acquire nationally
More than 60% of the Swedish acquisitions in 2017 were made by Swedish companies. Both Lifco and Ahlsell acquired four Swedish companies each during the year. Husqvarna, Lagercrantz Group, Transtema and Sdiptech all acquired two strategic companies.
However, the largest strategic acquisition in the Nordic market during 2017 was foreign. The Chinese paper manufacturing company Anhui Shanying Paper Industry acquired Nordic Paper for a consideration of SEK 2.4 billion.
Slight slowdown in transactions in 2017 compared to 2016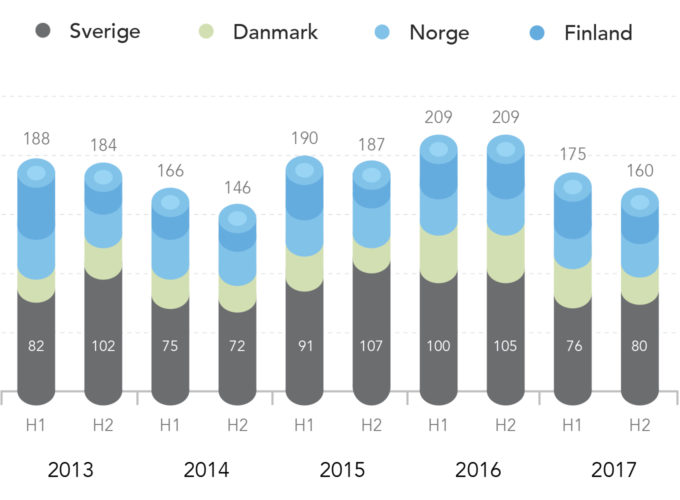 Stable value development on the stock market for industrial companies in the Nordics during 2017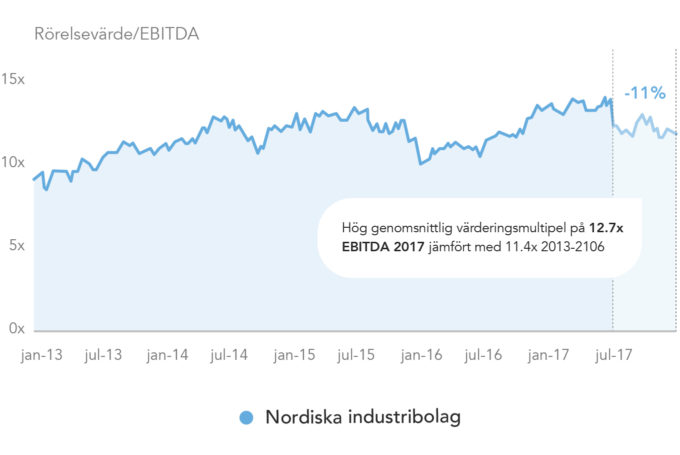 Nordic industrial companies listed on the stock exchange