New record year for M&A – these industries show the best results
In 2019, a total of 1,155 companies were sold in the Nordic countries, the highest number since Valentum began to monitor the market. However, we are noticing a small break in the trend as 2019 was the first year without growth since 2010. Valuations have levelled off at a new high—after having increased by 30-50% in the last ten years.
After eight years of increased activity in the market for company transactions, the increase seems to have stopped. The number of sold companies decreased by 3% in 2019—and even though the decrease is negligible, it marks a break in the trend.
Industries performing well – and less well
Sweden is still the Nordic market where where most companies are sold—in 2019 there were 391 transactions spread out across country. Some industries are doing better than others. One such industry, in which Valentum was very active in 2019, is the one for restaurants and entertainment. For instance, we acted as advisors in the much-publicised partnership deal between the founders of Bastard Burgers and Norwegian Equip Capital. Since its inception in 2016, Bastard Burgers has successfully opened more than 30 restaurants in Sweden. Backed by Equip, Bastard Burgers now has a clear ambition to expand internationally, initially by focusing on Norway and Finland.
Valentum also acted as advisor to the entrepreneurs behind Holy Greens and Busfabriken when they brought in new owners. A total of 42 transactions were made in the Nordic sector for restaurants and entertainment.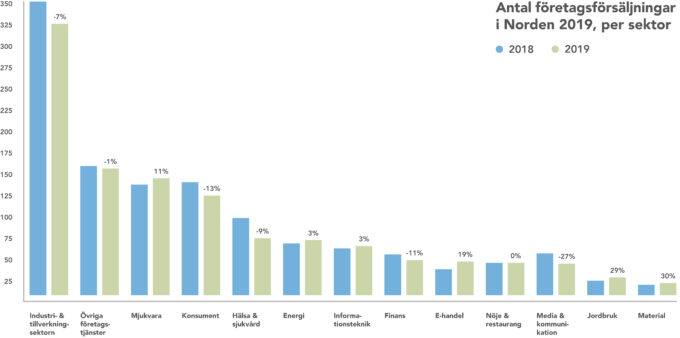 Software and e-commerce steam ahead
Other market segments showing strong growth are the software and e-commerce sectors. In the software sector, Visma stood out with six acquisitions in 2019 and in the e-commerce sector, Bygghemma carried out four acquisitions. Valentum continued to be active in the e-commerce sector and assisted the owners of Parfym.se when partnering with Priveq.
The interest in retail has remained weak, the same goes for the construction sector. However, in the construction sector we are seeing indications that the low point has been reached and that the interest in the sector may increase going forward.
Buyers from the Nordic countries – and the U.S.
The U.S. remains to be the non-Nordic country which carries out most transactions in the region. In 2019, 85 transactions with American buyers were completed. The biggest interest amongst U.S. investors lay in Nordic software companies, almost a quarter of transactions in this sector were carried out with an American buyer. As a result, the U.S. turned out to be the biggest buyer of Nordic software companies in 2019. If we look at the total market, most transactions were still carried out within the Nordic countries—almost 75% of businesses were bought by another Nordic company.