The M&A market for transport and logistics companies is driven by strategic buyers' strong investment strategies
A continued stable market with strong underlying trends drives strategic acquisitions and increases the interest from financial investors.

The M&A activity in the Nordic transport and logistics market experienced a slight slowdown during the second half of 2017, despite strong underlying trends. The growing E-commerce market has resulted in increasing transport volumes and an increasing demand for improved delivery accuracy, which in turn drove investors to perform strategic acquisitions. Mainly, strategic buyers in the Nordics are seeking to realise economies of scale, broaden geographical presence and increase the transport capacity.
Consolidation continues
The market for haulage and logistics is being consolidated rapidly. Swedish courier service Best Transports acquired Last Mile Services to establish itself in the Danish market. Dutch Den Hartogh's broadened its presence into the Nordic market by acquiring Swedish Bulkcon. Schenker sought further economies of scale and increased its capacity by acquiring Gothenburg based Kallebäcks Transport.
Retirement funds and private equity firms invest
Private equity firms and retirement funds are showing an increased interest in the sector. The pension fund ATP and Canadian OTTP (Teachers') conducted the largest investments in transport and logistics companies in terms of enterprise value during the year. The acquisition of Copenhagen airport amounted to a deal value of SEK 67 billion. Solvang and Belships also obtained new financial owners in 2017.
The M&A activity was slightly lower compared to last year
The development of transport and logistics company equities has altered during 2017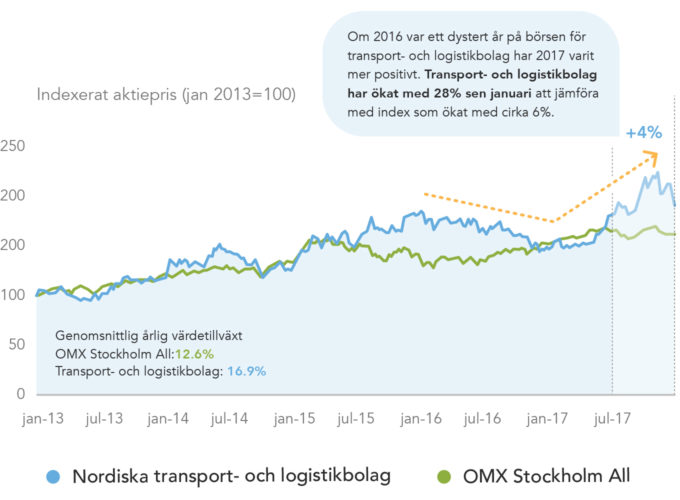 Nordic transport and logistics companies listed on the stock exchange